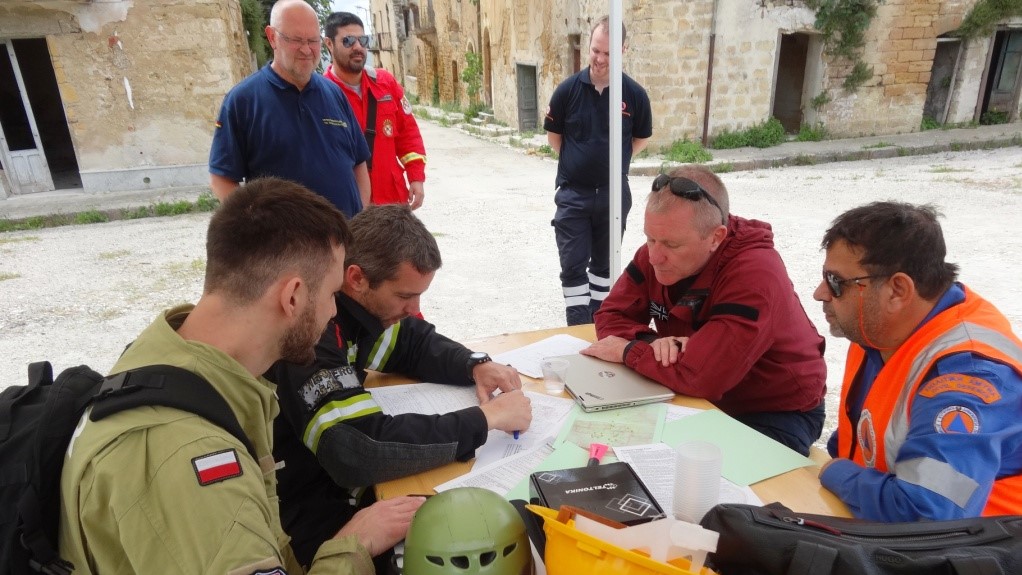 June 13, 2019
Dave Brunsdon
0 Comments
Kestrel Director Dave Brunsdon has just returned from Sicily where he was one of the two lead trainers for an international urban search and rescue (USAR) Structural Engineering Course.
The course was held in the town of Poggioreale in the middle of Sicily and organised by the German Federal Agency for Technical Relief, THW.
USAR engineers from 10 European countries – Spain, Morocco, Cyprus, Poland, Belgium, Jordan and France as well as Germany and Italy took part, with the other trainers coming from the UK and Peru.
"While every USAR engineer comes from a different background, and brings different perspectives, this was a remarkably diverse group, with some already working as part of civil protection arrangements in their countries, some as fire-fighters and others as consultants."
Dave says the location for the workshop was chosen because the nearby thirteenth century town of Old Poggioreale was the scene of a devastating earthquake in 1968 which left most of the old masonry buildings unrepairable.
"The town was eventually rebuilt several kilometres away, but the old town provides an excellent backdrop for USAR training at various different levels."
As well as providing USAR training to the European engineers, another focus of the course was to further develop an international 'Technical Guidance Note' to better define the role and function of USAR engineers.
Along with fellow trainer Josh Macabuag from the UK, Dave facilitated a series of sessions to distil and document the range of USAR engineering inputs following a disaster event.
"There continues to be international interest in the USAR response to the Christchurch Earthquake of February 2011.  As the last live person was extricated only 28 hours after the earthquake, the large contingent of NZ USAR engineers and international counterparts became involved in a range of other tasks beyond rescue activities."
One of Dave's tasks at the course was to prepare and run a half day building triage exercise in the earthquake-damaged town of Old Poggioreale. In this exercise, participants would apply the international methodology to buildings in various states of damage, based on scenario inputs that he and Josh developed.
"The actual damage to the buildings created a much more dramatic backdrop than the usual scenarios that the Kestrel team are able to create," says Dave.
"These exercises helped participants focus on their key roles and helped develop the descriptions that will go into the Technical Guidance Note, which will hopefully be presented at the international USAR Team Leaders meeting in Chile in October."